FMDSA Wine and Chocolate Fundraising Event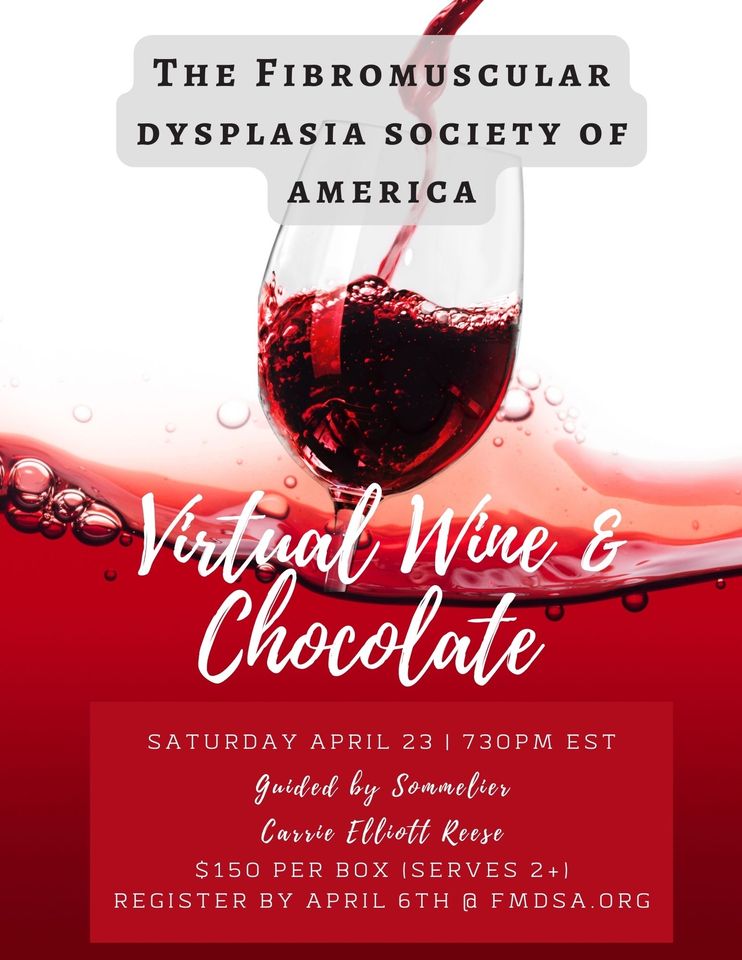 We are excited to invite you to join us for a fun and delicious evening while supporting FMDSA.
Certified sommelier, Carrie Elliott Reese, will guide us through a 3-course premium selection of
wines and paired chocolates that she has chosen for us to enjoy. She will share her knowledge
and passion for the pairings during this hour and a half virtual event. Carrie will answer your
questions as they pop up using the chat function and at the conclusion, she will welcome folks
to come off mute and ask any additional questions. You can learn more about Carrie and her
credentials at elliottreesewine.com.
The cost of the event is $150 per box and is non-refundable. This event is limited to US
residents only.
Each box which serves two or more will be shipped to the address listed when you register. The
box will contain three half-bottles of wine and two chocolates for each of the three pairings. The
chocolates are samples from Exquisite Chocolates of Carlisle, PA. Detailed notes about the
wines and chocolates will be included so that you can be familiar with the selections if you
choose or you can simply listen as Carrie explains the nuances of each pairing.
Details
1 hr 30 min
Event by Fibromuscular Dysplasia Society of America
Tickets · $150
www.eventbrite.com/e/virtual-wine-and-chocolate-tasting-registration-291727042437
A Zoom link will be provided after you register. The event is April 23 at 7:30 EST but the last day
to register is April 6. Time is required to box and ship to each address.
Thank you for your interest. We'd love for you to join us. FMDSA will receive proceeds from the
event.
If you have additional questions, please email:  molly.clark@fmdsa.org.