As with many under-diagnosed diseases, getting the care and support you need can be challenging. In order to receive the best care possible, it's vital that you become your own healthcare advocate. The objective of this section is to help you find the resources and information you will need to support your efforts.
FMD Awareness Products
(can ship internationally)
Help us to spread awareness about  Fibromuscular Dysplasia!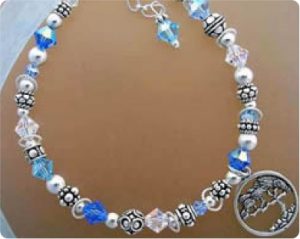 A very special "string of beads" for FMD awareness.
A Letter from our Executive Director, Pam Mace
My name is Pam Mace, and like most of you, I have Fibromuscular Dysplasia (FMD). I was first diagnosed with a left vertebral and bilateral carotid artery dissections after experiencing a TIA (Transient Ischemic Attack or ministroke). I also formed carotid aneurysms that led to several procedures, and a further diagnosis of renal FMD.
With so little information and difficult experiences to deal with, those of us with FMD have evolved into our own little family and depend on each other for support and an understanding of the disease.
In honor of our FMD family, I wanted to create a bracelet that would symbolize the unity among us and raise awareness about FMD. Together with Katie Janoch, jewelry designer, FMDSA has created a bracelet that we feel reflects the diverse challenges we face with FMD and the brilliant glimmer of hope for all of us with this disease.
Beads were chosen in the design of this bracelet to represent the "string of bead" appearance of affected arteries that is classic for the most common form of FMD. Brilliant blue to signify the vascular system and a tree charm to represent both the branches of your arteries affected and life itself. The bracelet is exclusive to FMDSA and will serve to raise awareness about this disease. We proudly offer this item as a symbol of FMD awareness. I hope you join me in purchasing and wearing this very special "string of beads" to unite all of us who support FMD awareness.
PLEASE NOTE: The FMDSA bracelet is currently unavailable.
Please check back later, as we are in the process of locating a new supplier.
To order your bracelet, please contact FMDSA at admin@fmdsa.org
Click here to print your FMD Bracelet Card to go with your FMD Bracelet now!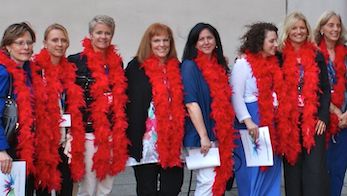 As you can see in the photo above many of our members are wearing their red boas while at the same time supporting Rare Disease day. The Order of The Red Boa was created by member Susan Bell for women diagnosed with FMD. To learn more about the Order of The Red Boa.
Click here and you can print a certificate to remind you that you are not alone. After that, all you need to do is purchase your boa.
This dictionary includes a lot of terms you will hear related to FMD. It was written specifically with patients in mind.
Online Medical Information - Research
Launched in 1996, www.eMedicine.com comprises the largest and most current Clinical Knowledge Base available to physicians and other healthcare professionals.
National Women's Health Resource Center, Inc.
Healthywomen.org is the one-stop shop for women's health information on the web. This site includes frequently asked questions and consumer tips on fitness, nutrition and disease prevention.
MedlinePlus has extensive information from the National Institutes of Health and other trusted sources on over 650 diseases and conditions. There are also lists of hospitals and physicians, a medical encyclopedia and a medical dictionary, health information in Spanish, extensive information on prescription and nonprescription drugs, health information from the media, and links to thousands of clinical trials.
Health Organizations
Global Genes: Leading rare disease advocacy organization. Their mission is to eliminate the challenges of rare disease. They have developed RARE Toolkits, which we think you may find valuable. Some topics include:

Parenting a Child with a Life-Limiting Illness

Genetic Testing: Is This My Path to a Diagnosis?

Searching for Answers: Contacting Biopharmaceutical Companies Effectively
To view these and other toolkits, please visit their website.
Whooshers.com: Do you experience pulsatile tinnitus or the swooshing noise in your ear? Whooshers.com has a wealth of information and resources. Check out their really cool t-shirts as well.
NORD - National Organization for Rare Disorders, Inc.
A 501(c)3 organization, is a unique federation of voluntary health organizations dedicated to helping people with rare "orphan" diseases and assisting the organizations that serve them. NORD is committed to the identification, treatment, and cure of rare disorders through programs of education, advocacy, research, and service.
Provides education, services, and community-based activities in prevention, treatment, rehabilitation and recovery. Their site provides some very informative patient information on stroke.
A division of the American Heart Association and offers a wide array of programs, products and services, from patient education materials to scientific statements.
Major voluntary health organization, seeks to prevent kidney and urinary tract diseases, improve the health and well-being of individuals and families affected by these diseases, and increase the availability of all organs for transplantation.
American Association of Kidney Patients
Exists to serve the needs, interests and welfare of all kidney patients and their families. Its mission is to improve the lives of fellow kidney patients and their families by helping them to deal with the physical, emotional and social impact of kidney disease.
Non-profit charitable organization created by a group of pilots to arrange free air transportation for any legitimate, charitable, medically related need. This service is available to individuals and health care organizations.
National Stroke Foundation (Australia)
Not-for-profit organization that works with the public, government, health professionals, patients, careers and stroke survivors to reduce the impact of stroke on the Australian community.
Government Resources
Americans with Disabilities Act https://www.ada.gov/ada_intro.htm
The official US government site for people who have Medicare benefits.
The Office of Rare Diseases (ORD) was established in 1993 within the Office of the Director of the National Institutes of Health (NIH). On November 6, 2002, the President established the Office in statute (Public Law 107-280, the Rare Diseases Act of 2002). A rare disease (also called an orphan disease) is a disease or condition affecting fewer than 200,000 persons in the United States. An estimated 25 million people in the United States have a rare disease.
National Institute of Diabetes and Digestive and Kidney Diseases
Part of the National Institutes of Health. This is the Institute responsible for research of kidney disease.
The FDA is responsible for protecting the public health by assuring the safety, efficacy, and security of human and veterinary drugs, biological products, medical devices, our nation's food supply, cosmetics, and products that emit radiation. The FDA is also responsible for advancing the public health by helping to speed innovations that make medicines and foods more effective, safer, and more affordable; and helping the public get the accurate, science-based information they need to use medicines and foods to improve their health.
The National Library of Medicine is a resource provided by the National Institutes of Health and is considered the most comprehensive library of medical information.
Social Security Administration
Official link to the Social Security Administration.
Health Insurance
The official US government site for people who have Medicare benefits.
Social Security Administration
Official link to the Social Security Administration.
Source for affordable health insurance quotes from a variety of health insurance providers.
Miscellaneous Links
Help with the cost of medications. Also see RxAssist for information about individual US State Drug Assistance Programs.
FMDSA Draw My Life.
(FMD Explained)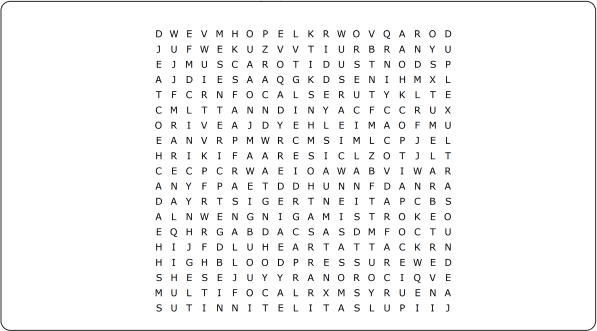 Just for fun!
Play our word search puzzle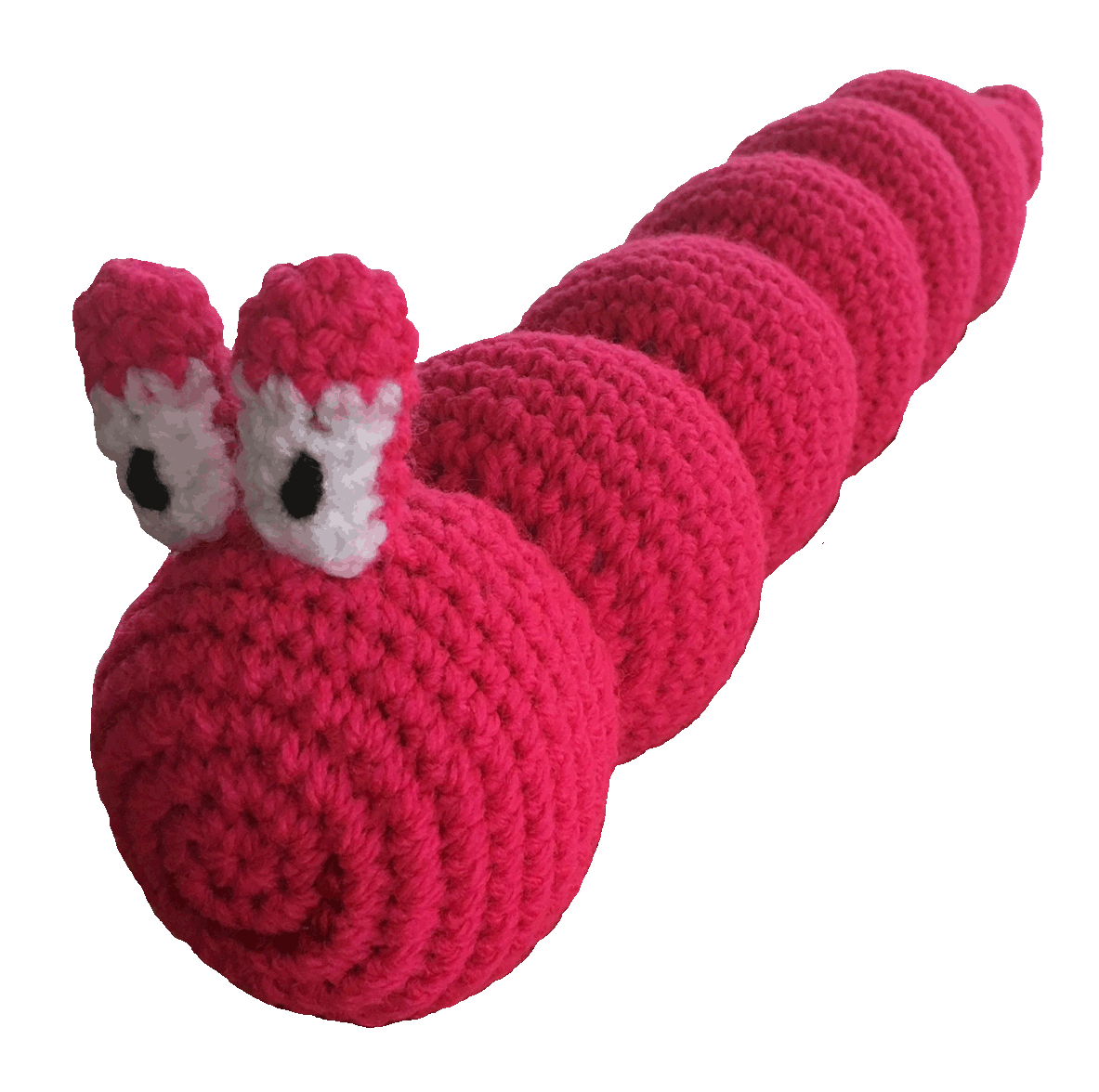 Beadie Fun Fact
Regardless of initial site(s) of vascular bed involvement, patients with FMD should undergo at least one assessment for intracranial aneurysm with brain CTA or MRA

"Faces of FMD" Patient Stories
We've started to collect stories from around the world and wanted to provide an outlet for the sharing of these personal experiences. If you are interested in including your story, please Contact Us.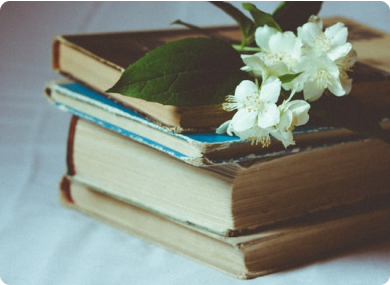 PLEASE NOTE: FMDSA is not responsible for the accuracy of our patient stories, nor any medical conclusions contained therein. The purpose of this section is simply to provide a forum for our members to tell their stories in their own words.
If you would like to be evaluated at one of the FMD clinics below, please contact them directly. Please note that not all **clinics participate in the US Registry for FMD, for a list of registry centers currently participating
visit the US Registry Page on our website.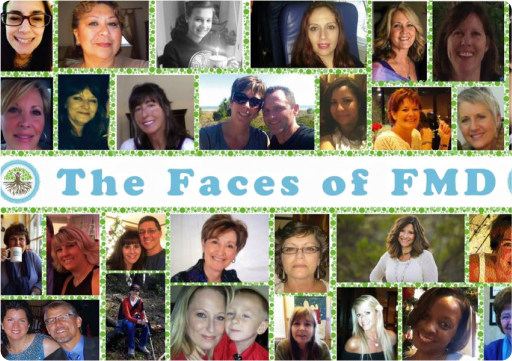 FMDSA Online FMD/SCAD Inspire Support Group
Please join us on our FMD Inspire support group. To be taken to our group, click here. Post your own questions or just read those from others on a range of FMD topics.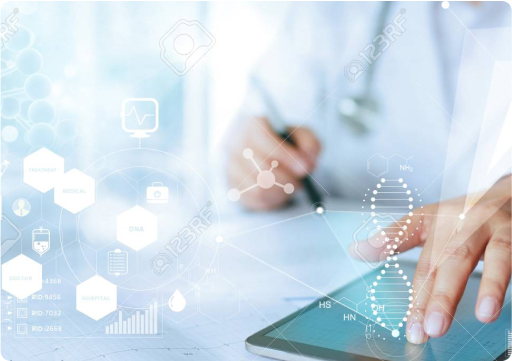 FMDSA is in the process of organizing Regional Network Volunteers/ Groups across the country. If you do not see your City or State listed, please check back soon as we are in the process of adding more groups. Please note these groups are informal and run by volunteers, many who also have FMD.
The volunteers/groups have been formed to offer support for affected persons and their families and to foster local efforts to further the FMDSA mission. It gives you the opportunity to meet others who have also been diagnosed with fibromuscular dysplasia and or spontaneuous coronary artery dissection (SCAD) the opportunity to promote public and professional awareness of the disease in your community. For questions about the groups please contact Carol Rogers at carol.rogers@fmdsa.org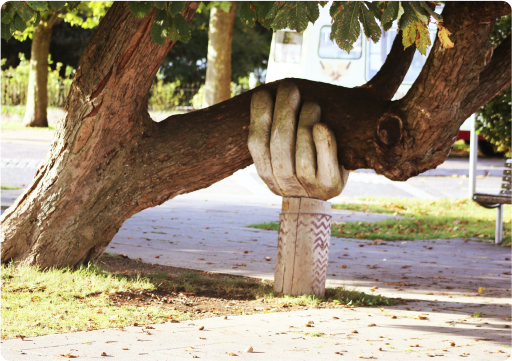 The tree has always been a universal symbol of many things, including wisdom, protection, and strength. Specifically, in terms of Fibromuscular Dysplasia, the tree's branches signify the arteries affected by this disease, and life itself.
For latest updates and news follow our facebook page. We post daily and it's a great way to stay connected.